There are times when teeth cannot simply be restored with a filling. At Raceview Dental Surgery, Ipswich, we sometimes find teeth are severely damaged and the only possible restoration is a dental crown made from either porcelain materials or precious metals such as gold.
Our dentists use local Australian companies in the construction of our dental crowns. We are also the only surgery in Ipswich to offer SAME DAY CROWNS milled from our Cerec unit. This world-class technology has been a hit with our patients. This ensures excellent quality and a lasting restoration for your teeth.If your teeth are severely damaged to the point that a crown is the only possible solution, our dentists will sit down with you and go through the procedures required to restore your tooth back to normal function.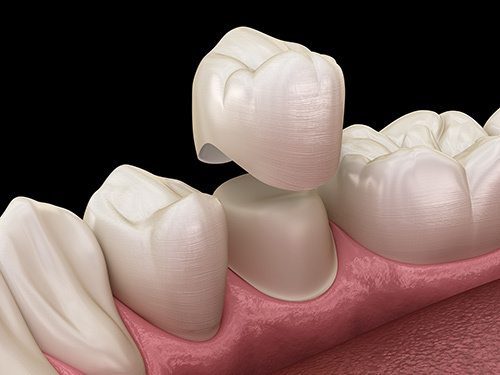 Our dentists use special instruments and reduce the tooth to a size required to hold the crown. We then take an impression of this and send it to a laboratory. If the crown is to be made for a front tooth, we will ask the patient to go to the laboratory to have a colour match done to ensure your front tooth exactly matches the surrounding teeth. This ensures that no one can tell that the tooth is a prosthetic giving you a very natural smile. Once the crown is received back from the lab it is cemented in place. In between visits a temporary crown is placed.
Crowns are designed to last many years with proper care and maintenance. The dentists and staff at Raceview Dental Surgery will thoroughly cover the procedures required to ensure your crown remains in place for many years.
The picture below shows the drastic transformations that are possible with dental crowns. This patient had some old discoloured teeth replaced with porcelain crowns. If you live in Ipswich or surrounding regions come and visit our dentists to discuss your options in obtaining a beautiful new smile!